It has been a great year with events all across New York. Now that the gap of days before New Year's Eve is closing, we want to bring you some alternatives for all the family. Also, you may find some events for New Year's Eve with a list of the activities that are going to be held at Times Square on December 31, 2017 (from 3pm til midnight!). We really hope you all have a great time and a HAPPY NEW YEAR!
1. Winter in Bryant Park December 28, 2017 – March 4, 2018 | Bryant Park
Winter Village at Bryant Park has a free ice skating rink with skates for rent, plus 125 holiday kiosks that stay open until Jan. 2.
2. Cocoa & Carols Cruise | December 29 – 30, 2017 | Pier 62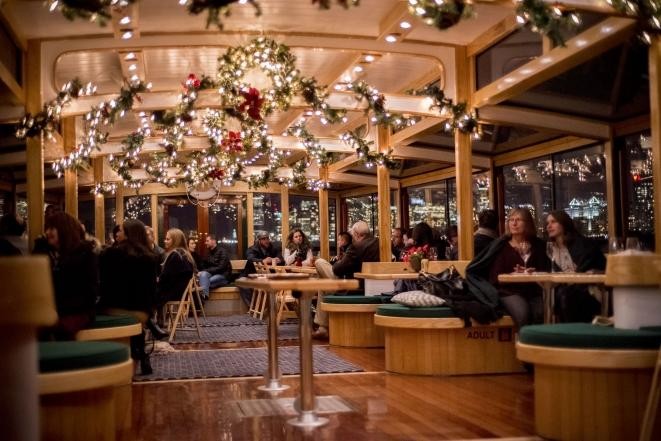 A ticket to 
Cocoa and Carols Holiday Cruise
 includes hot cocoa, cookies, a bar drink, live music, optional sing-alongs, and 1.75 hours of city light views, leaving Chelsea Piers (Pier 62).
3. Classic Soul & Motown Revue | December 29, 2017 – Feb. 24, 2018 |B.B. King Blues Club
A Decade of Soul features R&B music of the classic soul era performed live on stage at B.B. King Blues Club ($10 minimum food/drink at tables).
4. Kwanzaa Celebration |December 30, 2017 (2 and 7:30 p.m.) | Apollo Theater.
Kwanzaa Celebration: Regeneration Night features joyful dance and music at the Apollo Theater.
NEW YEAR'S EVE EVENTS 
5. New Year's Eve – Show Tunes | December 31, 2017 (8 p.m.) |David Geffen Hall
Celebrate New Year's Eve by hearing the New York Philharmonic Orchestra play the music of Bernstein on Broadway in David Geffen Hall.
6. New Year's Eve – Run | December 31, 2017 | Central Park Bandshell
Free music and dancing begin at 10 p.m., fireworks at midnight, plus a 4-mile NYRR Midnight Run that requires registration, all at Central Park Bandshell.
7. New Year's Eve Fireworks |December 31, 2017 | Bryant Park
Enjoy entertainment and hot chocolate, and then watch the New Year's Eve Fireworks at midnight at Grand Army Plaza in Brooklyn. Free.
8. Times Square Ball Drop
Get all the events that are going to happen in Time Square from 3pm until midnight! Learn more.